By Denise Henderson
Yesterday, I posted about Department of Justice press releases.  Today, I'd like to share a few of my favorites!
One early press release, dated November 6, 1933, details the establishment of a federal penitentiary on Alcatraz Island, which according to the release, "is a necessary part of the Government's campaign against predatory crime." Three years later, a press release was issued when one of Alcatraz's more high-profile residents was wounded by another inmate. The wounded inmate: Alphonse Capone. Lucky for him, according to the release, the wound appeared to only be superficial.
Many of the criminals in the early 1930s are names that live on in American folklore and the DOJ press releases, including Capone, "Pretty Boy" Floyd, Clyde Barrow, and the Dillinger gang. In a press release issued on April 23, 1934, DOJ offered rewards for John Dillinger and Lester "Baby Face" Nelson. $10,000 was offered for the capture of Dillinger; $5,000 for Nelson.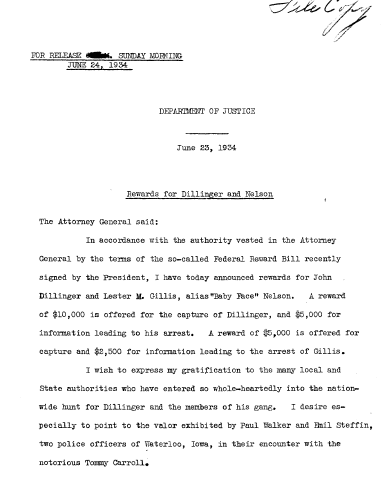 A press release containing only three sentences marked the end of an era. On May 2, 1972, Acting Attorney General Richard Kleindienst announced the death of J. Edgar Hoover, who led the FBI for almost 47 years.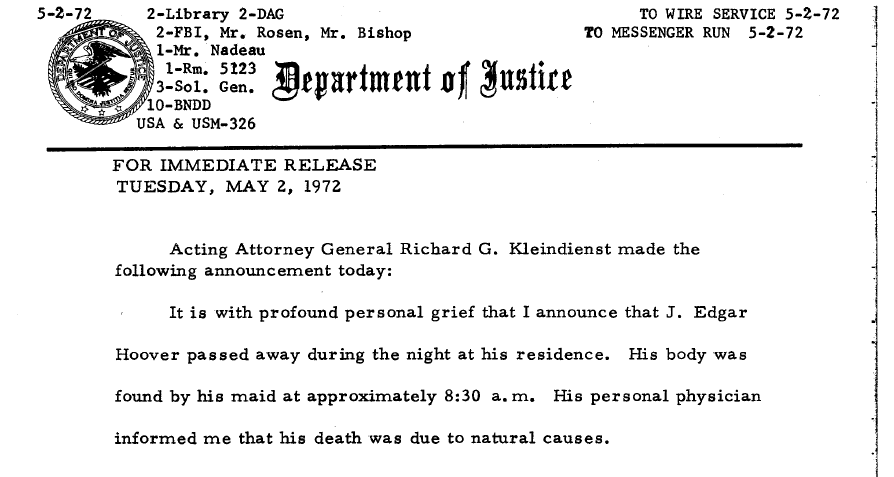 These were just a few of the discoveries that I made. Now it's your turn! But, I'm warning you, this series is addicting so make sure you have a few hours to spare!
Currently, I'm processing a name index…it should be ready in a couple of weeks!